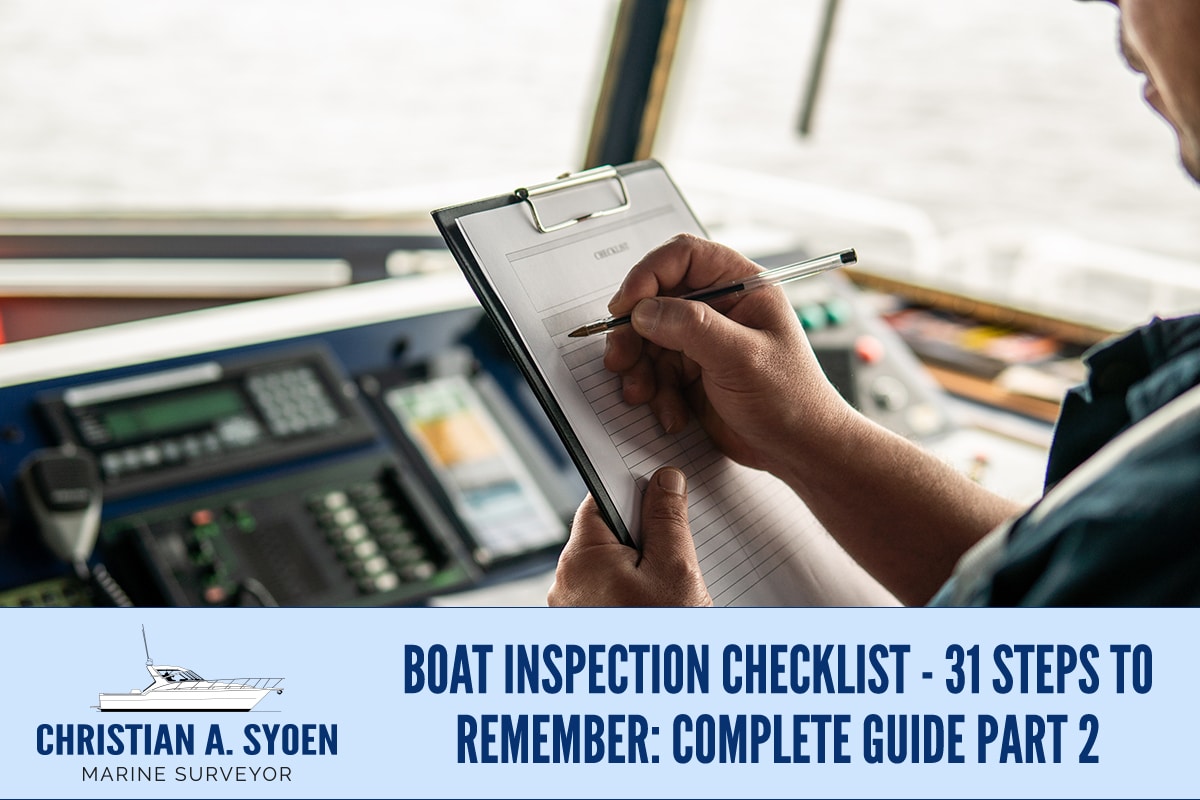 Taking the time to thoroughly examine any vessel you're interested in is a must before you buy. However, there are just so many different components to keep up with it can often be a challenge. That's why, I've gone ahead an made an easy-to-follow list so you never forget to inspect any part of a potential vessel's interior, exterior, or operating gear!

Navigational Lights
Make sure all the navigational lights are visible from every onboard angle, and not obstructed by overlapping lights or other structural components.

Life Rail
Your pulpit and rails should be very secure and made of a good, strong, durable material, like stainless steal. If you see zinc, be warned it will wear out much faster and easier than more robust materials.

Engine

Extensive engine checks, including running it full throttle underway, are normal. All engine components (coolers, intake hoses, exhaust), the engine room, beds, and mounts must be meticulously inspected for ease of accessibility, overall integrity, and documented contract accuracy.

Engine Oil
Your fuel lines and filter should be clean and clear of any and all debris or condensation, so put your engine oil to the test. You'll want to keep a close eye out for odor, grit, color, and water.

Propeller
Propeller shafts must be straight and have ample support. Got an inboard prop? Make sure when you double-check the distance between each tip and the hull is the same.

Steering
While you're at it, make sure your rudder feels smooth, your autopilot and hoses look good, and look out for any water that's leaked in, or worn/loose hinges. To check the fluid levels, start turning your wheel to its limits in both directions, anything more than seven turns could mean loose steering.

Battery
Nothing except the bilge pumps should be connected straight to the battery, and they should be the only things left on when the main battery is turned off. All other DC gear should turn on and off with the power. You'll also want to make sure your alternator is properly powering the battery, and that your charger is tested to make sure it has enough voltage to be useful when the time comes.

Wiring Connections
All electrical components and installations should be organized, securely concealed, functioning optimally, and compliant with all related safety requirements.

Bilge

Bilge and bilge pumps should function effectively even if the main power is off.

Gauges
Any control systems that provide enhanced situational awareness, including fuel gauges, pressure gauges, and oil gauges, should be properly installed and fully operational when tested with no signs of wear or damage.

Plumbing
You definitely want functional plumbing, so you're going to want to make sure it all works and that there are no leaks, cracks, puddles, or anything else lurking unseen. You can even test the seacocks to determine how easily they open/close, and try to access the head and holding tank to make sure its large enough, and easy to reach and clean – preferably with a Y-valve system.

Fuel System
Every element of your fuel system needs to be watertight and without leaks, no exceptions, so take some time really inspecting it all.

Mast/Rigging
If it's a sailboat, the poles, boom, and mast should appear to be in good shape with no surface defects or detectable corrosion. Inspect every part that moves, from your welds and winches, to your masthead sheaves and associated blocks. And check all the rigging wires, eye terminals, and canvas fittings/attachments/spreaders for signs of excess wear or damage.

Safety Equipment
All safety equipment, including fire suppression systems, smoke/carbon monoxide detectors, first aid kits, floatation devices, navigation lights, audible/visual distress signals, and more, should be readily available, and inspected and tested for functionality.

Lines
Any cables or lines, whether exposed or concealed, should be inspected for chafing and corrosion; especially the anchor and throttle cable thanks to increased exposure.

Check for Missing Parts
Finally, take one last look around and make sure nothing looks missing or out of place. Are there holes with exposed wires where it looks like things used to be, or a few missing screws and bolts here and there? It's often these littlest things that can give you the biggest headache later on.
Interested in getting the most thorough, reliable possible inspection you can before you buy? Trust a professional marine surveyor, like me! CAS Marine Surveyor is here protect you from any and all bad investments. You just have to give me the chance. To schedule a survey for your own vessel, or one you're going to purchase, reach out to Christian A. Syoen of CAS Marine Surveyor today by calling 1.810.531.0992 or fill out the form in the sidebar to schedule your free consultation.