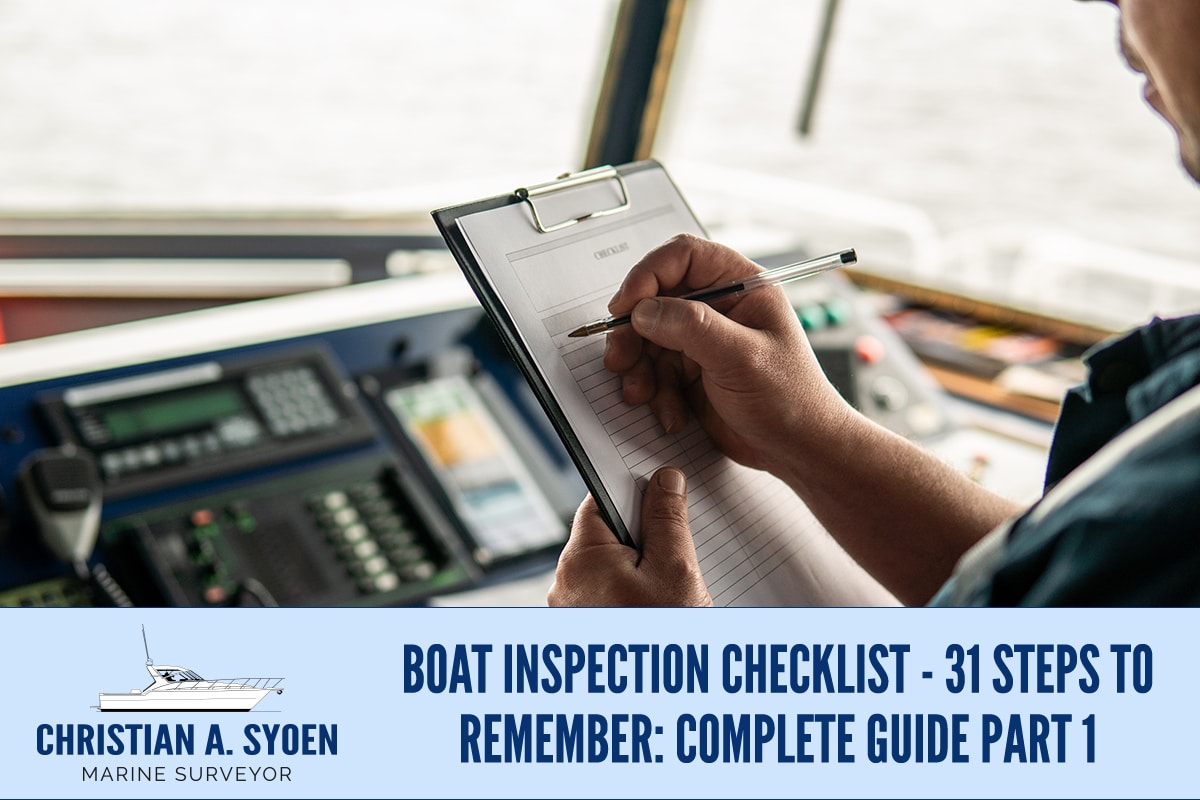 Taking the time to thoroughly examine any vessel you're interested in is a must before you buy. However, there are just so many different components to keep up with it can often be a challenge. That's why, I've gone ahead an made an easy-to-follow list so you never forget to inspect any part of a potential vessel's interior, exterior, or operating gear!
Water Tightness
This one should be a no-brainer. Your boat needs to float so check to make sure everything below deck, including cabinets and stowage spaces, are warm and dry with no signs of watermarks, corrosion, or peeling paint of any kind. Be sure to also closely examine the fiberglass as well for signs of sloppy fastenings, as weak glue and loose screws are common points of entry for moisture.

Upholstery
Is the upholstery clean, comfortable, and durable enough for your aquatic lifestyle? Make sure you take a close look.

Cabin Security
Make sure the cabin is secure and all hardware is stowed away safely out of reach. This is also a good time to check on sink drains and other hull-hoses to make sure they're correctly connected with specially designed seacock valves, and that there is no engine exhaust seeping into the cabin.

Galley
While you may not be taking your vessel out to sea, inclement weather alone can unsettle a ship, so many sure everything is installed and secured with extreme conditions in mind. All appliances, personal devices, kitchen ware, and even furnishings and entertainments systems should all be carefully secured to the ship for protection.

Locker Space
When it comes to lockers, you want them spacious, tough, and secure. Make sure they're waterproof, and strong enough to hold everything you'll need even on the roughest waters. In these matters, better safe than sorry.

Hull
Upon first glance, paying close attention to the chines, stem, and strakes, is the boat you're looking at in good shape? Do you see any stress marks/cracks, blisters, depressions, or peeled/mismatched paint? If you do, you might want to consider a second opinion.

Keel
A keel has to be perfectly horizontally straight with absolutely no signs of damage. It may need to be inspected from below the boat though, so you might want a trained marine surveyor for this one.

Deck
Using some of the same techniques as with the hull, your deck must be inspected for any soft spots and weaknesses caused by moisture. Tap the deck all over and listen for odd sounds while also watching out for physical faults. Even an indication of previous water damage is a red flag you won't want to ignore.

Helm Station
Time to look at all your dials, navigation, and steering equipment. Your transmission should shift smoothly and silently, as should the steering, and all your dials should be free from any mist, fog, or moisture.

Hull-to-Deck Joint
You should never see any joint gaps in your engine room, anchor locker, cabin furniture, or any other points of entry for moisture. If you can, try to make sure your hull-to-deck joints are glued, glassed, or bolted, as these are much stronger than screwed/riveted vessels.

Molding Trim
Your molding trim should look fitted and nicely finished. You can peek inside berths and cabinets to look out for related structural concerns. You should also see the fiberglass securely bonding your bulkheads to the hull to assure an ideal watertight seal, with foam/putty filets to prevent pressure cracks.
Hardware
All deck hardware should be firmly secured and waterproofed to prevent moisture damage of any kind.

Cushions
Both down below, or on deck, you want to make sure all your cushions and furniture are stain and watermark free. Any signs of deterioration can drive the sale price down, or at the very least force the seller to take care of replacements.

Hatches
Flooding is a worst case scenario, but in the event it does happen to you, you need to make sure all your hatches, gutters, and gaskets are entirely waterproof. Any signs of excessive caulking, corrosion, stuck/rigged hatches, odd smells in hatch compartments could all be huge red flags.

Windshield
The ship's windshield is what shields all your gear from the elements, so making sure is it water tight and secure is essential.

Interested in getting the most thorough, reliable possible inspection you can before you buy? Trust a professional marine surveyor, like me! CAS Marine Surveyor is here protect you from any and all bad investments. You just have to give me the chance. To schedule a survey for your own vessel, or one you're going to purchase, reach out to Christian A. Syoen of CAS Marine Surveyor today by calling 1.810.531.0992 or fill out the form in the sidebar to schedule your free consultation.