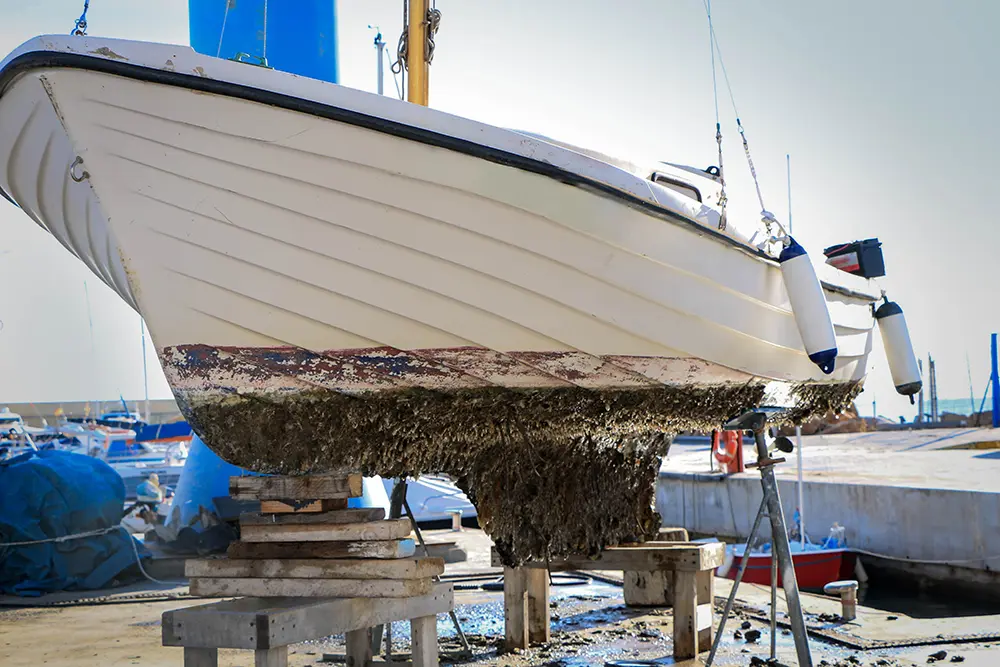 Boating season is just around the corner in Michigan, and now is the time to get a jump on getting your vessel ready when the weather breaks. Even if you skipped important cleaning during winterization, time spent on giving your boat the attention and care it needs now will pay off in enjoyment later. To get you moving in the right direction, professional marine surveyor Christian A. Syoen offers these helpful tips:
First Things First: Before you pick up a brush, or pour out the soap, be sure to thoroughly rinse the entire boat with water. Scrubbing a dry hull can cause scratching and damage to the gel coat.
Use the Right Equipment: Start with a brush with bristles strong and dense enough to remove tough grime without being too abrasive. The addition of a long, removable handle will allow you to do a great job and save your back. In selecting a soap to use on your boat, remember that anything you use is going to end up in the water. Choose a detergent with a neutral pH of 7 to protect your boat finish and the environment. Cleaners with an acidic pH (less than 6) can damage your finish in an instant if a spill occurs.
Carpet Care: Don't neglect the boat carpet when cleaning your boat. Start at the front end of the cabin and vacuum thoroughly, working toward the stern to avoid tracking fresh dirt over the area you've just cleaned. Using attachments to hit those hard-to-reach places and remove dirt and debris before attacking stains with a spot treatment and a steam cleaner.
Keep your Teak at its Peak: Regular care is necessary to protect the teak on your boat and help it keep its rich color. It's fine to wash your teak with the same cleaner you used on the rest of your boat, being sure to rinse well. If your teak is showing signs of wear, sand with the appropriate grade paper, let it dry thoroughly and apply teak oil.
Christian A. Syoen understands what your boat means to you. Growing up on Lake St. Clair, he has a deep love and appreciation for time on the water. When you are ready to sell your boat, insure your boat, or you're interested in an upgrade, be sure to make a professional marine survey part of your transaction. Whether you need a Condition and Valuation Survey, an Appraisal Survey, a Verification of Stated Condition, or a Insurance/Financial survey, Christian A. Syoen has the knowledge and experience you need to protect your investment and give you peace of mind. Enlist the experience of a seasoned professiona; call Christian A. Syoen at 1.810.531.0992 or complete the online form in the sidebar to begin with your free consultation and schedule your professional marine survey today.