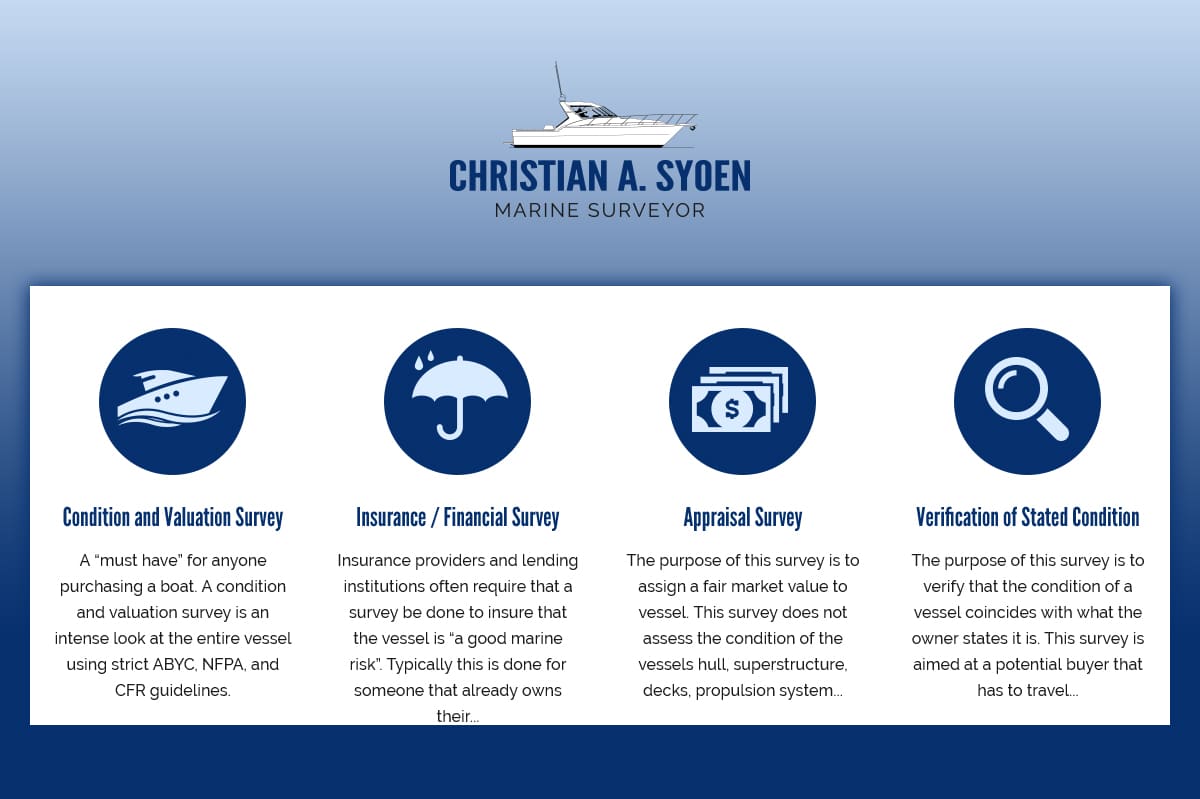 When trying to track down the right marine surveyor for you, you first must consider what exactly you need a marine surveyor for. For instance, are you trying to earn the most on a sale? Do you have insurance matters that need taken care of? Or are you just trying to find the right boat to make your next investment? Only when you figure out what you need will you be able to decide. Just keep in mind you will always be able to find quality services and loyal support that cater to your needs at CAS Marine Surveyor. We provide:
Appraisal Surveys
An Appraisal Survey is every boater's best resource when trying to sell a used vessel. With it, a broad assessment is performed and specific considerations are taken into account, such as the known market value for other vessels of the same model. Finally, once all factors are accounted for, you will be given the best and final market value for your ship. That way you can get your ship sold as quickly as possible without having to fear losing any money.
Condition & Valuation Surveys
If you're buying a boat, this is one marine survey you will not want to skimp out on. It is the most intense possible vessel assessment survey in the business, using strict National Fire Protection Association (NFPA), Code of Federal Regulations (CFR), and American Boat and Yacht Council (ABYC) guidelines to guarantee the inspection of every aspect of the ship's general appearance, fuel and electrical systems, superstructure, decks, hull, and more. By the time it's over, you'll know everything about the vessel in question, from whether it's ever had a leak, to anything else the owner is trying to cover up. Basically, if you ever want to ensure you're making a good investment with a specific ship, all you have to do is get a Condition and Valuation Survey.
Verification of Stated Condition Surveys
Being told about a great ship that you live too far away to see in person? The Verification of Stated Condition Survey is definitely for you. It means a marine surveyor will travel to meet the seller of any vessel you're interested in, inspect the boat and compare the findings to the information you've previously been given, and provide you with the most accurate information about the honesty of the sale so you're never left marooned with a ship that's no good to you.
Insurance/Financial Surveys
Finally, if you're just trying to get your insurance company off your back about the quality of your purchase, you can easily get an Insurance/Financial Survey performed fairly quickly. A brief inspection of your boat will show any serious signs of "deficiencies" that might make your vessel a marine risk, allowing a base value to be assigned to your ship – all of which can then be passed onto your insurance provider.
Looking for the right marine surveyor to handle all these surveys for you? Choose CAS Marine Surveyor! To schedule a survey for your own vessel, or one you're going to purchase, reach out to Christian A. Syoen of CAS Marine Surveyor today by calling 1.810.531.0992 or fill out the form in the sidebar to schedule your free consultation.