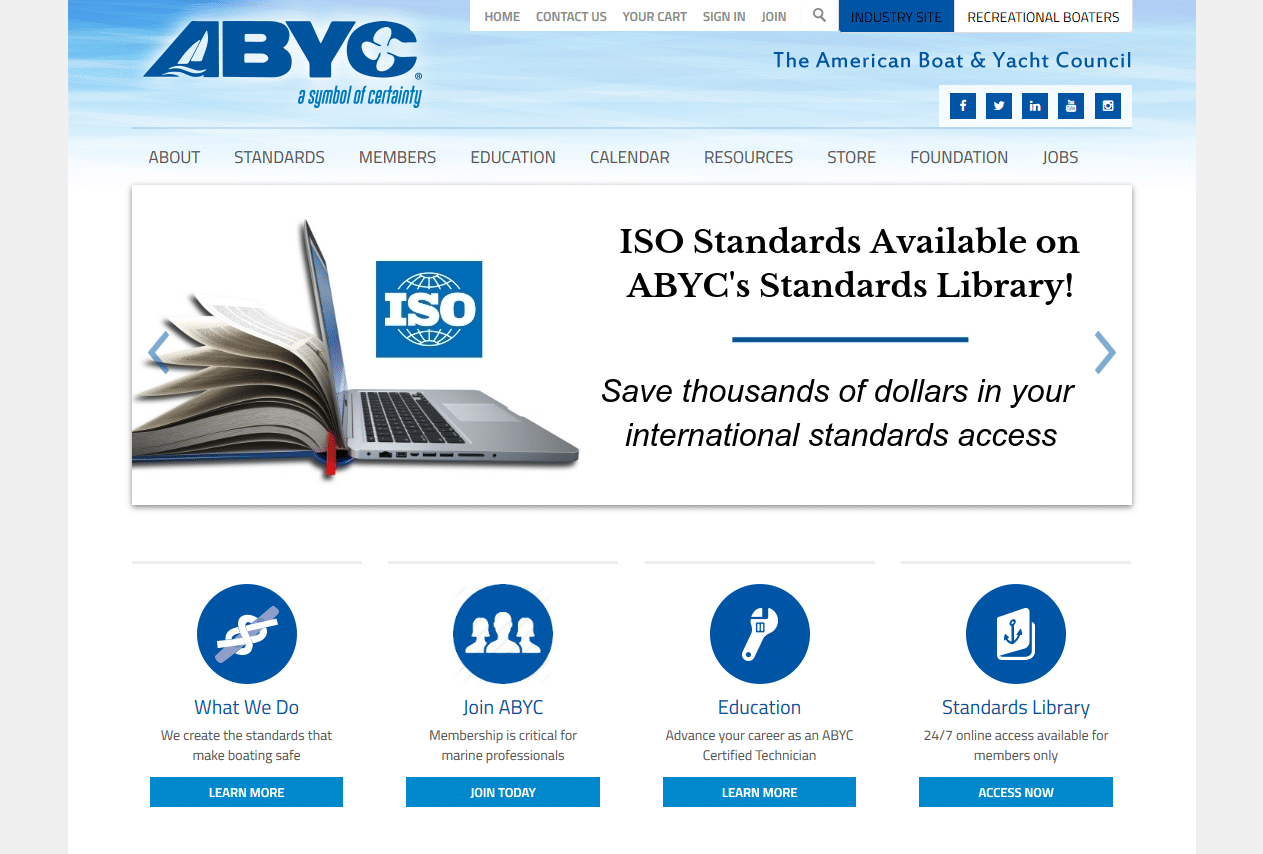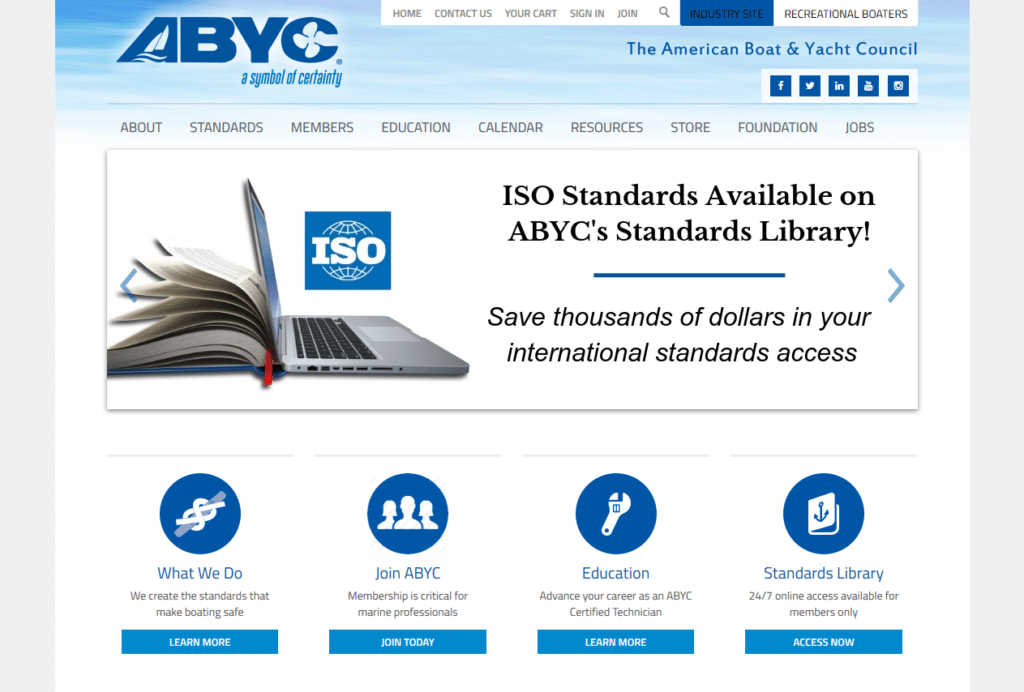 The American Boat and Yacht Council (ABYC) is a well-known "non-profit, member organization that develops voluntary global safety standards for the design, construction, maintenance, and repair of recreational boats." Excellence in technician education and professional development is integral to this organization, and marine industry professionals throughout the world have benefited from their wealth of resources for many years.
Mission
The primary mission of the ABYC is to become the ultimate source of valuable technical information for marine industry professionals around the globe. Developing "product safety standards, credentialing, education, training, and other tools to equip members to be successful," is their way of making sure boating can be just a little bit safer for members everywhere!
Membership
Membership to the ABYC is strongly encouraged for anyone seriously interested in the marine industry, from Marine League students and certified technicians, to vessel manufacturers and marine surveyors. Just a few of the many perks include: access to countless certification and training programs, digital access to Standards and Technical Information Reports for Small Craft, continuous connectivity to a live technical department, a place in their official members directory, discounts, and more!
Resources
Better still, in addition to the virtually infinite number of training programs and certification courses accessible, the ABYC also maintains an incredible member's-only library full of other insightful publications, webinars, and more, available online 24/7. Plus, there are also informative members magazines, marketing toolkits, compliance tools, and more available as well. With these diverse resources, members are able to gain a better understanding of marine systems, diesel vs. gas engines, marine composites, advanced electrical, and everything else they might need to know about before diving head first into the marine industry. In fact, with more than 90% of boats today being built in accordance with ABYC standards, these resources are all but critical for any serious marine industry professionals looking for success.
CAS Marine Surveyor
Just remember, if you're ever looking for a professional marine surveyor, making sure you do your research and choose someone who is a loyal and well-respected ABYC member may very well just mean the difference between you making a bad investment or not. I, Christian A. Syoen, founder and lead marine surveyor at CAS Marine Surveyor, for instance, maintain memberships with the American Boat and Yacht Council (ABYC ) and the Society of Accredited Marine Surveyors (SAMS), among others. Plus, I always recognize the standards of NFPA, USCG CFR, and NADA Guide whenever I'm conducting any surveys. Essentially, that means so long as you trust me, you'll always be in good hands! To schedule a survey for your own vessel, or one you're going to purchase, reach out to Christian A. Syoen of CAS Marine Surveyor today by calling 1.810.531.0992 or fill out the form in the sidebar to schedule your free consultation.